Wybrałem studia MBA, ponieważ obejmują one obszerny zakres wiedzy niezbędnej w wielu aspektach zarządzania zarówno projektami czy zespołami, jak i przedsiębiorstwami. Chcę zdobyć wiedzę z zakresu zagadnień, którymi wcześniej w swojej karierze zajmowałem się tylko powierzchownie. Jako osoba z wykształceniem technicznym poszukuję uzupełnienia swojej wiedzy z zakresu ekonomii, zarządzania oraz prawa. Nie żałuję tej decyzji. Jestem pozytywnie zaskoczony poziomem i wiedzą wykładowców. Ich bogate doświadczenie pozwala zagłębić się w zagadnienia, a otwarcie na dialog ze studentami owocuje analizą ciekawych przypadków. Bardzo cenię sobie partnerski system wprowadzony przez WSB w kontaktach z uczestnikami.

Maciej Rułka
uczestnik studiów MBA Leadership w WSB w Gdańsku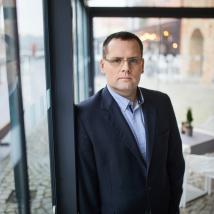 MBA Leadership at WSB University in Gdańsk
MBA Leadership Program has the unique curriculum built around soft skills and interdisciplinary content relevant to managers. Targeted at students seeking to develop competencies being key managerial prerequisites, it makes them effective leaders of their organizations. On signing up, you can choose between two study paths:
the Polish-English language path – with 30% of classes taught in English
the English path language – with 100% of teaching delivered in English.


Partnership


curriculum developed in partnership with Deloitte and the US-based Peregrine Leadership Institute
partner relations amongst MBA Program participants as well as between students and faculty – through active attendance and involvement in knowledge-sharing, students emerge as major contributors to the learning experience, making a real impact on the Program
friendly and supportive staff, including a cohort manager available throughout the duration of the Program
WSB University's membership in the Business Centre Club is emblematic of its commitment to business education as well as of its involvement in promoting enterprise in society.
Practice-focused
focus on the development of leadership skills
modular curriculum structure
classes led by top-class academics and expert business trainers
opportunity to upgrade your Business English skills in either language path
use of interactive instruction methods – workshops, business case studies, panel discussions, etc. – for relevant learning that can be immediately applied in the workplace
site visits to companies
teachers available after-hours for coaching and mentoring
24/7 online contact with the University via the Web-based student portal – Extranet.
Professional class
a final project based on FRIS methodology to complete the Program, developed under the supervision of a certified FRIS trainer
a series of individual coaching sessions
an MBA degree 
courses taught by an international faculty made up of premium teaching talent with ample hands-on experience
free special guest lectures from Polish and international celebrities
comprehensive and relevant learning including specialized know-how
state-of-the-art, proprietary course materials provided free of charge
study at a University that is part of Poland's strongest group of collegiate schools of business with over 20 years of experience in the delivery of MBA programs.
Interested in our studies?
Informator MBA Gdańsk 2023